Bhaag Milkha Bhaag review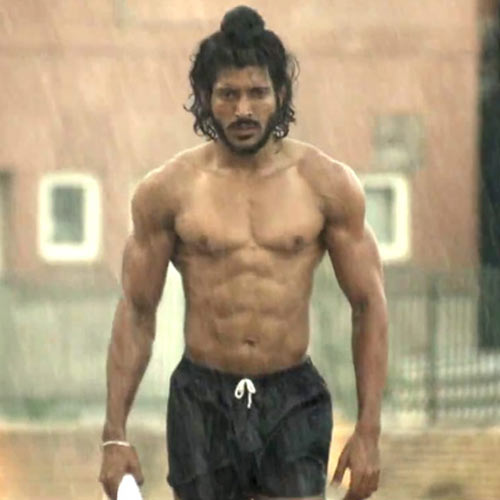 My nanhe munhe pyare daughters have given their review of this film on paper. The verdict was other than Ammu, they didn't like it. Ammu liked only the running parts and as for me, I cried all the way. For every bucket, Milkha filled with his sweat, I filled it with my tears of joy, tears of emotions and mostly tears of sadness.
What a movie, a must watch for every Indian, to be proud of what we all can do for ourselves, and for our country, for our neighbours. Please go watch it, though i am not sure, if it is truly universal in rating. There is enough adult stuff, blood and gore for my kids to have nightmares and at the same time, be introduced to adult themed stuff at their tender age. They really do not have to know or worse, see french kissing, romping and such going on. That was quite distasteful, but they kept the film raw so to show the true suffering undergone by Milkha. The young Milkha, he reminded me so much of my neighbour's son, Gobind Singh, same height, weight, same smile, innocence laden, spirited and humble, shy and brave at the same time. I felt like reaching out to him and hugging him. Other tender moments depicted is the deep bond between the brother and sister, so good to know such pure affection that touches hearts.
Farhan's ready disarming smile, always humble, polite and well mannered made Milkha a pleasure to watch at all times. I loved Farhan's million watt smile which would light up miles of darkness in the sky.